You may be familiar with spray tanning machines, but did you know that you can get a custom airbrush tan from a professional? Airbrush tanning is a great go-to before an event, like a wedding or a vacation, and will give you a noticeably more even, more natural looking tan than using a self tanner at home. It's also much safer than using a tanning bed or laying out in the sun, which can rapidly age skin.
Full Body Tanning – $35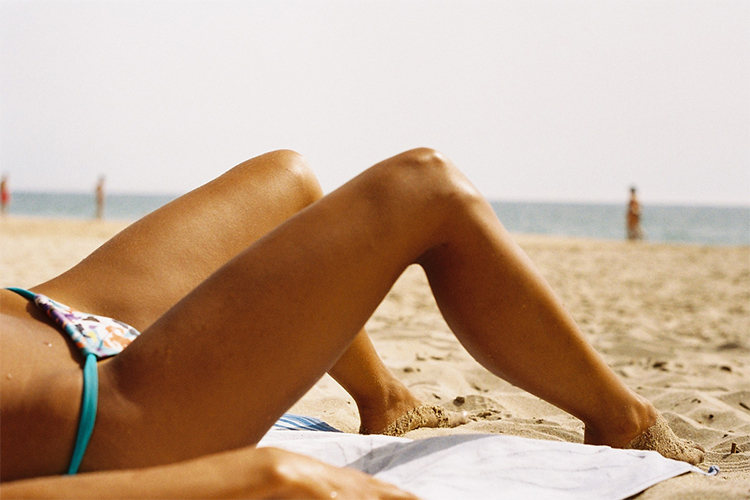 An Airbrush Tan:
Is applied by a professional, so it's easier to control the level of your tan. Spray tanning machines can sometimes miss some spots or can drip, which, if left unnoticed, can leave uneven patches of color. If you're someone who "doesn't tan", the control of an airbrush tan is especially helpful so that you don't end up with a tan that looks unnatural against your features.
Is not a long term commitment. Most airbrush tans last for about 5-10 days depending on how much you exfoliate or if you use a lotion or tan-extending product at home to extend the tan. If you don't want to continue tanning and are only looking to get some color before an event, your airbrush tan will gradually fade.
Makes you look slimmer! A tan and a healthy glow can make your body look more toned and make you look alive.
What to Expect:
Your air brush tan professional will have you dress down to your comfort level, exposing the areas you would like airbrush tanned. You are welcome to wear a bathing suit, or underwear set that you don't mind getting product on. Beauty Bar offers disposable underwear, bras and pasties for you to use as well.
Your air brush tan professional will have you step into an private airbrushing tent, barefoot on disposable paper.They will then airbrush you using a hand held spray gun for an even application. The tanning solution that we use one of the most sought after solutions in the world made by South Seas. It is ideal for all skin types and offers immediate custom beach-beautiful color!
After the application you will be left to dry for 10-15 minutes. Once you feel like you are dry enough to get dressed again, you are welcome to leave. We recommend wearing dark, loose, breathable clothing after your service.
Wait 8 hours before showering for full development of color. Don't worry if you notice color rinsing off in the shower, this is normal. What you see rinsing off is the first layer of solution and what will be left behind is an incredible sunless glow!
For Best Results:
Exfoliate your skin 24 hours before your airbrush tan service using a spa bristle brush, or exfoliating soap. Pay special attention to elbows, knees, feet and ankles.
If you plan on shaving any part of your body, please also do so 24 hours before your airbrush tan service. Waxing should also be done 1-2 days in advance.
Refrain from using oils or lotions or any other barrier 12 hours before your airbrush tan service.
After your airbrush tan, Beauty Bar recommends using our South Seas Tahitian Tan Extender to keep your skin feeling great and extend the life of your glow up to two weeks. It is non tinted, mango scented and paraben-free.
Refrain from exercising or heavy sweating until after your first shower to prevent the color from streaking.