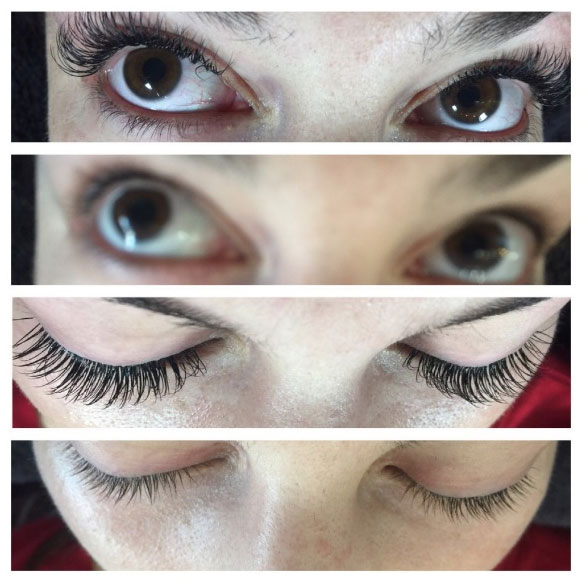 Eyelash Extensions are a great way to simplify your beauty routine, minimize makeup application time, and able to give you a beautiful natural look without the hassle of strip lashes. Each extension application is customized to the individual allowing a look that suits your wants and needs. Lashes come in different lengths, curls, and thickness. The application of extensions is pain free and can be very relaxing. As lashes are applied you get to lie down in our spa bed and close your eyes for an hour and a half while listening to music or just enjoying the quiet.
How They Are Done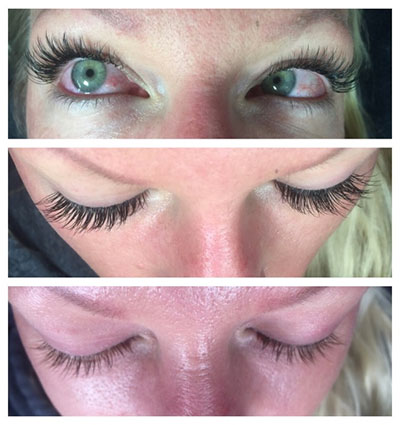 Your technician will use the one to one method to place your lashes. This means one false lash is adhered using a medical grade adhesive to one of your natural lashes. By using the one to one method lashes will not stick or clump together, giving a beautiful natural look to prevent damage. The first appointment takes the longest, usually from an hour and a half to two hours depending on the look you and fullness you are going for. After the initial full set appointment, we offer maintenance appointments called lash fills. These appointments typically take forty five minutes to an hour. During your lash fills your technician will take off any lashes that have come loose or have grown out with your natural lash and replace them with new lashes. During these visits you can always change up the style of lashes by adding more or less lashes than your initial full set.
After Care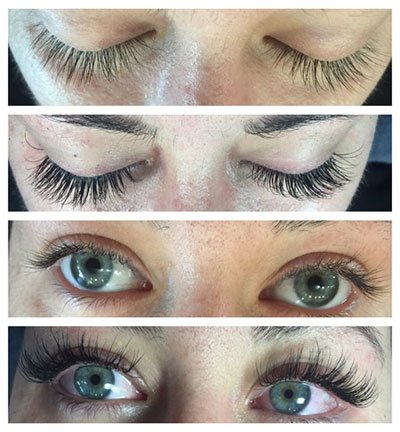 Lash extensions are much more durable than you probably think. For the best wear, in the first 24 hours you will want to keep them dry and for the first 48 hours you will want to avoid steam. After that you can return to any normal activities. Extensions are thicker and longer than your own lashes so they must be washed at least once a day with a mild lash cleanser to keep them clean. To prevent breaking down the adhesive, you will want to avoid using anything like regular face washes, oils, face creams, and makeup remover on the lashes. You can still wear makeup with lash extensions but you won't need mascara. We recommend avoiding mascaras to prevent the breakdown the adhesive which could cause your lashes to come off prematurely. We will send you home with a lash wand for you to use to brush your lashes into place after washing and before bed. You should never pick or pull on your lash extensions to keep from causing damage to your real lashes. If you have one that is bothering you, no problem. Give us a call and we will be happy to spend a few moments adjusting it.
FAQs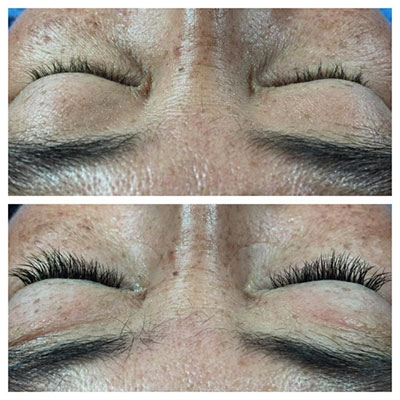 Q. Do they cause your own lashes to fall out?
A. Your natural lashes grow and shed in cycles. By placing one false lash on to one natural lash it allows the extension to grow and shed with you natural lash without pulling out other lashes around it.
Q. Who can get eyelash extensions?
A. Anyone! As long as the person has some natural lashes lash extensions can be applied.
Q. Are they safe for your eyes?
A. We have different options of adhesives for people with sensitive eyes. All adhesives are placed on the lash and never on the skin or in the eye.
Q. How long do they last?
A. Because your lashes grow and shed at different rates, to keep them looking their fullest and best you will want to come back for lash fills around every 3 weeks. If you were to let them all fall out naturally it could take up to 6 weeks for them all to shed.
Q. Can you swim or workout with them on?
A. Yes after the first 24 hours you can swim and workout with them on, making them a great way to keep yourself looking amazing during all activities.
Q. If I want to take them off how are they removed?
A. You can either have your lash technician remove them with an adhesive remover, or let them naturally fall out. To prevent damage, please do not attempt to pull them off or remove them at home.